Credit Card Merchant Accounts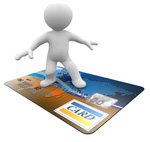 Host for Yourself offers a wide range of solutions for those looking to accept credit cards. Whether it is for an e-Commerce site, a reseller webhost, or a retail merchant, our partnership with e-onlinedata.com has you covered. Studies show that directly accepting credit cards as compared to restricting a customer to using checks, cash, or paypal increases income and customer confidence. Don't be left behind! Accept credit cards today!! Ask us about our special incentives when ordering an e-onlinedata merchant account.
WebHosts/ISPs, Resellers, and e-Commerce store owners
help you to setup your merchant gateway to work with your billing software or checkout system FREE OF CHARGE when you sign-up today! Get accepted as an e-onlinedata merchant and a knowledgeable H4Y tech will tell you exactly how to get your website integrated with your e-onlinedata/authorize.net merchant gateway. We will even log in to your machine and do it for you!
Get More Information and Apply Now!