About us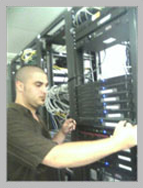 "Smarter, Cheaper, Faster.. Since 2001!!"
H4Y Technologies LLC (Formerly Host for Yourself LLC) was founded in 2001 as a limited liability partnership based in Brookeville, MD. H4Y Technologies LLC operates two distinct brands: Host4Yourself.com (H4Y) and iWebFusion.net. As of 2009, H4Y Technologies LLC purchased iWebFusion Technologies LLC (iWebFusion.net) of Oregon and integrated it as a separate brand. H4Y is now based in Central Florida with in-house staff at several strategically selected datacenter locations.
Today, Host4Yourself.com has become a trusted and leading provider of managed hosting, cloud and virtualization services, reseller services, advanced infrastructure deployment, global load balancing, failover services, network DDOS mitigation, and web/application development. iWebFusion.net, with its focus being automation and simplicity, has multiplied exponentially in size since it was acquired, now with an enormous fan base for its economic self-managed, VPS hosting, dedicated servers, and colocation services.
H4Y's nameservers are authoritative for hundreds of thousands of top level domains serving some of the most popular websites and services on the net. We service enterprises, developers, and hosting resellers. From individuals or small businesses requiring simple domain parking, easy to use site-builders, or basic hosting to essential businesses relying on H4Y to create disaster recovery plans, mitigate DDOS attacks, and to build redundant and secure infrastructure for their most complex hosting needs. Our developers create simple webpages for individuals up to ground breaking projects for fortune 500 companies, yet we offer the lowest priced, easiest, and most robust site builder packages for the Do-it-Yourselfer as well. We retain a "small" company feel with the dedicated, personalized attention we give our clients. Our senior level techs will often give customers their personal cell phone number if it makes a technical support situation more convenient. We take every effort to be the most honest, responsive service provider bar none.
"Give a Man a Fish, and You Feed Him for a Day. Teach a Man To Fish, and You Feed Him for a Lifetime."
At H4Y, the goal is to be available just as much (or as little) as needed. Most services offered at Host4Yourself.com include "Meticulous Management", a complimentary server and network administration framework. This framework involves automated procedures and monitoring as well as access to top experts (humans!) in their fields answering to your beck and call 24/7/365. From simple email assistance to debugging scripts gone haywire to requiring the urgent assistance of an engineer to diagnosing an HSRP routing loop issue at 3am, we're on it! Our certified experts are there when you need us whether it be a simple question every hour or a complex, dire request once in a blue moon. Complimentary support included with all hosting packages means expert help with HTML/CSS, PHP scripts, Wordpress, and other 3rd party scripts as needed. Just ask us your question and we'll see what we can do to help. We come through for you 100% of the time - we answer every email - we return phone calls promptly - we ALWAYS find a solution. Our 24/7 support provides multiple ways to converse with a KNOWLEDGEABLE, professional tech support representative. Questions are answered quickly and problems are eradicated completely.
H4Y Technologies LLC strives to make regular donations to the internet community, the hosting community, and the Linux community. We routinely donate a portion of our profit to the open source software developers who provide some of the technologies we utilize every day. Our techs participate, voluntarily, in many of the largest online hosting discussion forums and groups. Our designers regularly create and maintain community oriented websites where we are able to share our expertise with others and promote our services.